Writing your own web copy – the words on your website that explain the value you offer customers –  is hard.  It's a big job, even if you're good at writing. I've been writing for business for decades. It's still a challenge to see myself from the outside and explain why and how the work I do helps businesses succeed.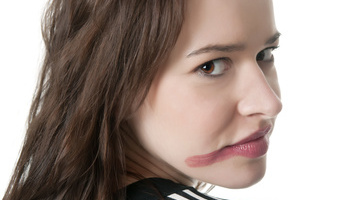 Writing your own web copy can be like trying to put on makeup when you don't have a mirror.  You're operating on what you feel rather than what you see – and the results can be ineffective and sometimes embarrassing.
Why is it difficult?
Because – with the best will in the world – we can end up talking in jargon about the features of what we do
Jargon: Every business has its own specialist verbal shorthand that allows its experts to communicate efficiently with each other.
For example, smart web designers talk about "websites that convert".  They know that they mean websites that generate sales, newsletter subscriptions or other engagements – but do their customers fully understand how much meaning is packed into the word "convert"?
Features: We're experts in how to do something, so we tend to talk about how we operate (our features) instead of why our work matters  and what it delivers.
In car sales, you might hear about automatic braking and airbags.  These are features that deliver the benefits of safety.
As a potential customer, I'm not that interested in what you'll do to solve my problems.  What I want to know is that:
You talk my language and understand my problem.
You know how to solve my problem.
You can solve it now – and preferably permanently – at an acceptable cost.
I want to know the benefits that I'll get from what you do and that I can trust you to deliver what I need.
Two tips for better copywriting
Jargon-busting: Make an audio recording of your copy – (or get someone to read it out loud to you).   Listen like a smart ten year old to the language – which words are super-charged with meaning and need to be translated?  Are there words that could have different meanings in conversation?  For example, I might convert some money into US dollars to travel overseas.  You need to translate your technical terms into words that make sense in seconds.
Benefits-building: Get a sheet of paper and divide it into two vertical columns.  Head the left hand column "FEATURES" and the right hand column "BENEFITS".  Go through your copy and capture the phrases that are features of your offering and the phrases that are benefits to the customer.   If you find you have a lot of blanks in the BENEFITS column, start by writing "so that you…." and describe why your feature matters to the customer. For example, "We design websites that convert so that you get more sales/signups".
The words matter
The words on your website are the primary information source that search engines use to catalogue your website and connect you to searchers.  They help you get visitors.
The words on your website are a key element in making an offer that your visitors understand as valuable.  They help you keep visitors and turn them into followers and then customers.
If you love writing and are prepared to do the work to learn the specific skills of copywriting, that's great.   If you don't like writing, or you don't have time to train as a copywriter, then you might want to think about whether it's worth risking DIY web copy.