Getting to the sweet spot in making a marketing proposition often needs some real detective work to hear beyond what people say and to find out what they're really concerned about.  There's a 3-step process you can use:
Gather clues from the needs people will talk about.
Deduce underlying, unspoken issues that are of real concern.
Connect your expertise to the underlying issues, not just the spoken needs.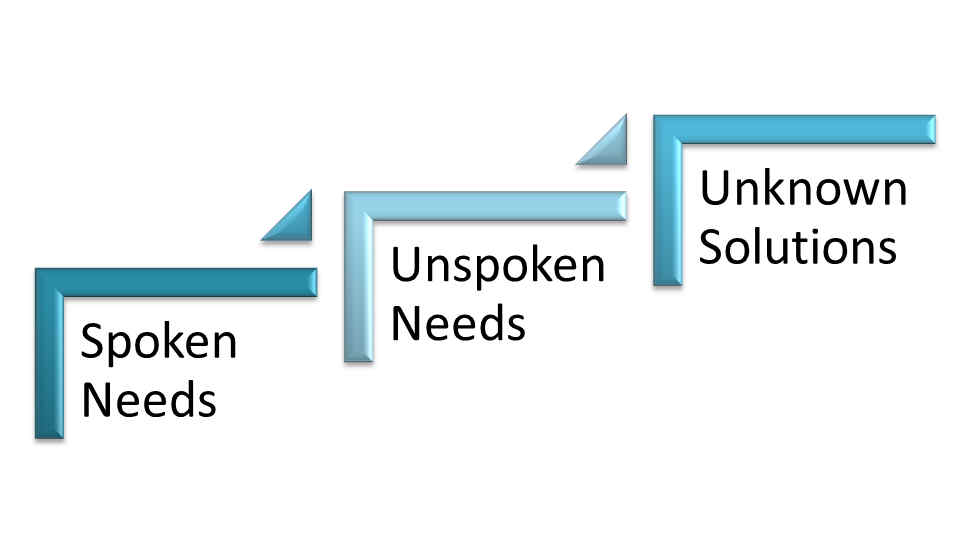 Doing this detective work and connecting your expertise to underlying issues can make a difference to your marketing success.
What do people say?
In day to day conversation most people don't come right out with what's really worrying them deeply.  They keep things light and want to show themselves at their best.
A homeowner with a roof drainage problem might talk about how their lounge room paint is bubbling off the wall. A business owner who doesn't have a lot of management training could talk about how unreliable today's youth are because they've lost another good employee with real potential.
What's really concerning for them?
Often, hidden behind what people WILL talk about is a deeper concern.  It won't come up in ordinary conversation – but it's something that's keeping them awake at night.   You might get to it on a Friday night after they've had a few drinks, but it probably won't come out over a casual coffee.
A recently constructed dream home may have become a nightmare that the owners just want to escape.  A small business could have become a life sentence instead of independence from bad bosses.
So as you listen to what's spoken, listen for less obvious, implied concerns.
What do you know that they don't?
Your business has expertise that's not known to most people – but talking about your expertise in your terms can miss the mark.   How do you connect your expertise to your customer's underlying needs and concerns?
A plumber could talk about how they save dream homes from abandonment because they know how to access insurance funding, or protect people's health by controlling mould and damp.
A business coach or trainer could talk about how they help business owners reclaim their freedom by learning the language skills for delegating and monitoring without micro-managing.
A bookkeeper could talk about the relationships she saves by teaching small business systems to manage bookwork on their phones, or the anxiety she relieves by her ability to negotiate with accountants and the ATO.
Put aside conversational ping pong
Next time you get in to a conversation with your customers, make an effort to listen differently. Often we listen to respond, capping a story with a story in conversational ping pong.
Ask your clients what's changed because of your work then listen like Sherlock Holmes – for what they're not saying.